If you need free fonts for Illustrator projects, then you are in the right place. In this post, we have compiled a list of free fonts for Illustrator designers.
Free Fonts Download
So, here is our list of free fonts. We will add more free fonts in this post and make a go-to list for free fonts.
The Designer has added symbols, diacritics, new characters, kerning pairs, and small caps.
Rude – Free Handcrafted Serif Font
Uppercase, lowercase, digits, and symbols are all included in this typeface. Rude is a distinctive typeface that works well for, among other things, logos, titles, publications, headlines, clothing, and posters.
BlowBrush is a handwritten, marker-style font with natural lines and edges that will give your text a unique character and a pleasant flow, thus making it look original. This font includes the full set of upper characters, numbers, 22 ligatures, a selection of special characters, and some variations.
We may use this typeface in a variety of tasks, including packaging, publishing, headlines, business cards, restaurant menu designs, and posters, among others.
THUNDER is a condensed typeface featuring two contrast levels and 36 styles, as well as a changeable typeface.
STANLEY – FREE ELEGANT DISPLAY TYPEFACE
This multilingual typeface is ideal for advertising, posters, correspondence, package designs, and many more uses.
Baksoda Free Font for Illustrator
Baksoda is a hand-lettering script typeface with a distinct style and dramatic movement. It is ideal for logos, printed quotations, invitations, cards, product packaging, headers, Logotype, Letterhead, Poster, Apparel Design, Label, and other similar projects.
Soulcraft font is a freeware changeable font created to resemble vernacular calligraphy.
A brush-style font that is impulsive, robust, and makes a powerful impact. Suitable for dark or exotic material.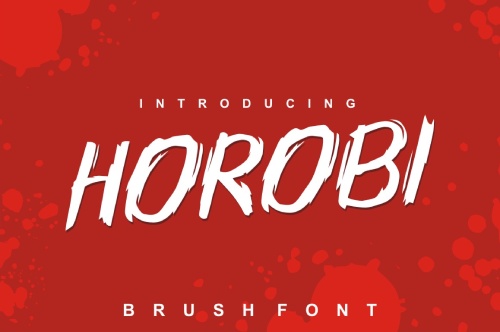 The Sprite Graffiti typeface is the first Bulgarian street art typography in Cyrillic created for the 24th of May (Bulgarian national holiday celebrating the alphabet) as part of our campaign for Sprite Graffiti Fest 2014.
Cervanttis Signature Script is a natural and stylish handwritten signature script. This collection of scripts is perfect for personal branding.
Darktown is a decorative sans and script font created with love that can be used for poster designs, logos, signs, and typography. Your project will benefit from two sorts of fonts: scripts and sans. complemented with an additional text style editable in Adobe Illustrator.
Adobe Fonts is a database of more than 20,000 distinct fonts that are included for free with your Creative Cloud membership. If you don't have a Creative Cloud Subscription, you may subscribe individually and still access this incredible library.
Since 1998, "1001 Free Fonts" has been the home of free fonts. "1001 Free Typefaces" provides a massive collection of free fonts for Windows and Macintosh.
Best Fonts for Illustrator
You can also suggest any free font in the comment section below. We would like to include it in our ultimate free fonts list for Adobe Illustrator.
You can also learn: