In the realm of graphic design, choosing the right software is crucial for creating stunning visuals that leave a lasting impression. Two of the most popular options available are Adobe Illustrator and Adobe Photoshop. Each of these tools has its strengths and applications, making them indispensable for different aspects of graphic design.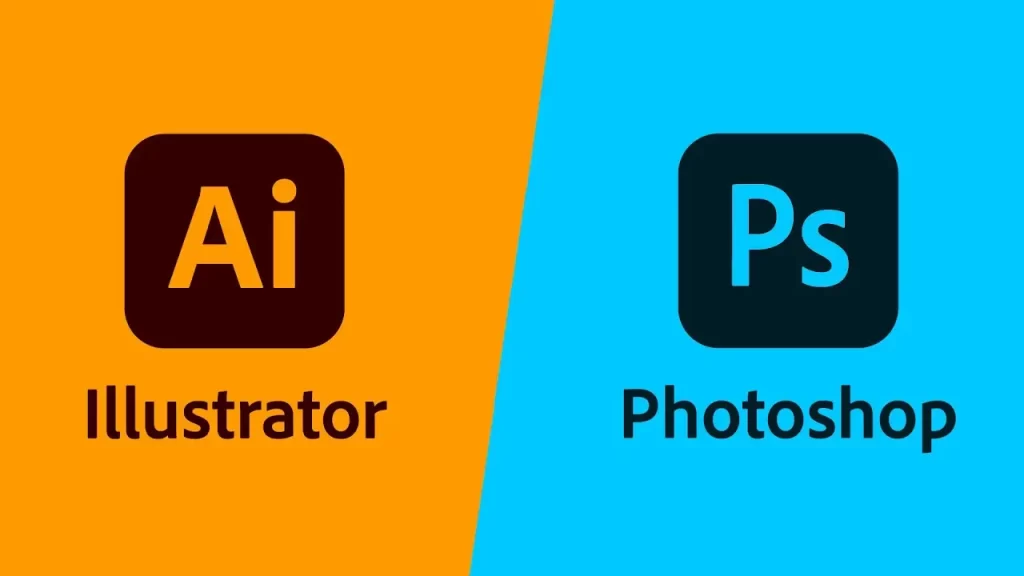 Understanding Adobe Illustrator
Vector Graphics Mastery
Adobe Illustrator is a vector-based software, meaning it uses mathematical equations to create sharp, infinitely scalable designs. This makes it the go-to choice for creating logos, icons, and other graphics that need to maintain their quality regardless of size.
Precision and Paths
One of Illustrator's key features is its precision in handling paths. Designers can manipulate anchor points and curves with unparalleled accuracy, allowing for intricate and detailed designs.
Typography Excellence
Illustrator shines when it comes to handling typography. Its powerful text tools enable designers to create custom fonts, manipulate letterforms, and achieve precise text placement within a design.
Unleashing the Power of Adobe Photoshop
Raster Graphics Domination
Unlike Illustrator, Photoshop uses raster graphics, which are made up of pixels. This makes it the preferred tool for photo editing, digital painting, and any design that relies on photographic elements.
Photo Manipulation Wizardry
Photoshop is renowned for its advanced photo manipulation capabilities. From retouching portraits to creating surreal compositions, it's the tool of choice for photographers and digital artists.
Filters, Effects, and Brushes
With an extensive library of filters, effects, and brushes, Photoshop empowers designers to add depth, texture, and special effects to their creations. This versatility is invaluable for achieving a wide range of artistic styles.
Choosing the Right Tool for the Job
The Nature of Your Project
When deciding between Illustrator and Photoshop, consider the nature of your project. If it involves primarily vector-based graphics, such as logos or illustrations, Illustrator is the way to go. For projects heavily reliant on photos or digital painting, Photoshop is the better choice.
Integrating Both Tools
In many cases, a combination of Illustrator and Photoshop proves to be the winning formula. This allows designers to leverage the strengths of both software for a seamless workflow.
Conclusion
In the world of graphic design, Adobe Illustrator and Photoshop stand as titans, each with its unique strengths. Understanding the nature of your project is key to making the right choice. Whether you need the precision of vector graphics in Illustrator or the pixel-perfect editing capabilities of Photoshop, Adobe has you covered.
FAQs
Can I use Illustrator and Photoshop together in a single project?

Absolutely! Many designers find that integrating both tools enhances their workflow and allows for maximum creative freedom.

Which software is better for creating logos?

Adobe Illustrator is the preferred choice for creating logos due to its vector-based capabilities, ensuring that the logo maintains its quality at any size.

Is Adobe Creative Cloud subscription required to use Illustrator and Photoshop?

Yes, both Illustrator and Photoshop are part of the Adobe Creative Cloud suite and require a subscription for access.

Can I edit photos in Illustrator or create vector graphics in Photoshop?

While possible, it's not recommended. Illustrator and Photoshop are optimized for their respective tasks, and using them interchangeably can lead to suboptimal results.

Are there free alternatives to Illustrator and Photoshop?

Yes, there are free alternatives like GIMP and Inkscape, which offer similar functionalities. However, they may have a learning curve if you're already familiar with Adobe's products.